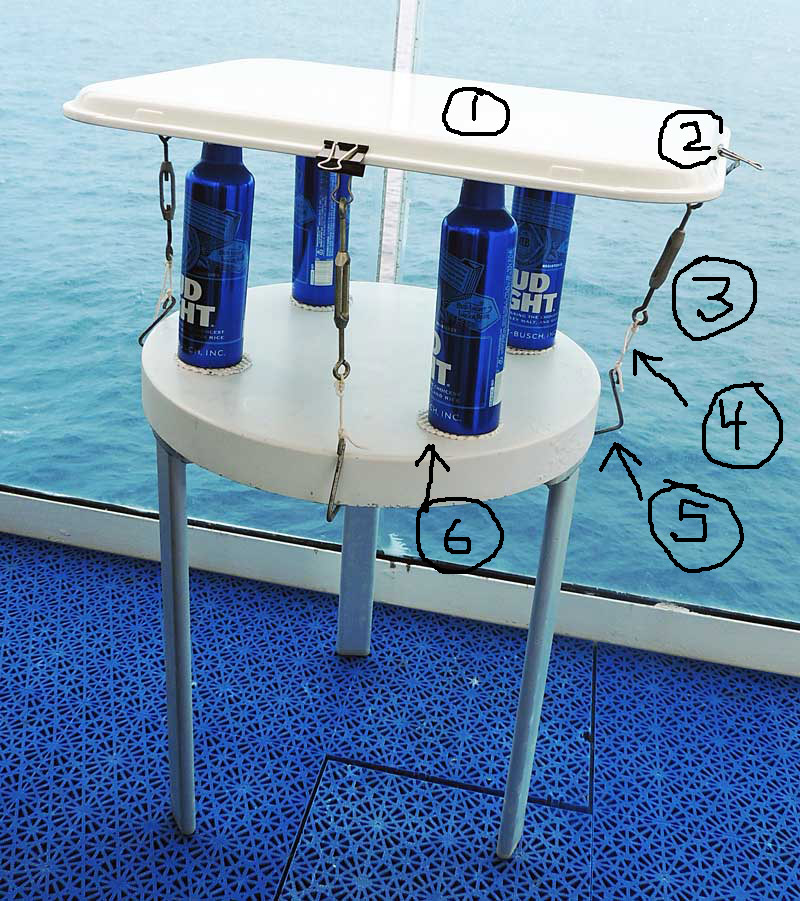 1.- The tray - I did not try it right-side-up, but it might have worked that way too.

2.- Office paper clamps. These were medium-small, and they could slip off if made too tight, but they did not come off by themselves. Another clamping device could work too. The second ear of the clamp was a nuisance, but if I had removed it, then I could not pinch the clamp open to install it. A neater arrangement might be possible here.

3.- The turnbuckles - These are key to the whole thing. I had them in my workshop junk box, but a hardware store will have them. This allows you to adjust the 4 sides so they are snug and firm, but not over-tightened. Reaching a balance between the 4 sides will keep it fairly steady. We moved the table several times carefully from the bottom edges without incident.

4.- Heavy twine. The string allowed me to make even more adjustments in the overall length of each leg. The legs on the long end of the tray reach further than the wide end of the tray, so having the extra flexibility is good. I started with each turnbuckle almost fully opened, and if it reached both ends ok then I tightened it to snug it in place - going back and forth to each side to firm them down evenly.

5.- The hooks for under the table edge. Made out of scrap metal at home, they are heavier than a coat hanger. The under lip of the plastic table top has a thickness to it, perhaps wood is under there, so the hooks are a U shape with a little lip that was supposed to grip under the table top and allow for the thickness of that table top edge. They were supposed to be straight but the angles came out wrong. I pinched them to more than a right angle later on, and they grabbed well enough but still the angles came out odd.

6.- The rubber anti-slip disks -I don't know if they were essential, but I felt less likely to knock the whole thing over if I tapped a coffee cup on the edge of the table. As it was, the only un-stable event was when I took it apart at cruise-end and the beer cans went flying all over the deck.

This little do-dad greatly enhanced our cruise by enabling us to eat at a proper height table! Unless I am sure that my cabin will have a "big boy" table, these parts will be with me on my next trip.